Professional Grade Hand Wash Training System
The Checkpoint System includes a 250ml bottle of UV GERM Training Lotion. Formulated using SMART UV Revealing Particles which are INVISIBLE under normal light conditions, yet will glow a distinctive Green or Blue when exposed to a UV Light source such as the Checkpoint Examination Lamp.
A pleasing and easy-to-use method of applying Microscopic UV GERM Simulation particles to hands prior to washing. This gentle, non-greasy, moisturising lotion is safe for use on all skin types.
The Checkpoint System also comes with a copy of our HY-5 (pronounced High-Five) pre-training primer and step-by-step instructional video on a handy USB stick.
This HD video will provide trainees with a short overview of the hand-wash training process they are about to undertake as well explaining the different techniques used in hand washing and how much of a real difference proper hand-washing makes to everyday hygiene.
Before washing
Hands fully covered in UV GERM Training lotion
After first wash
Clearly missed wrists & thumbs
After first wash
Fingernails & cuticles still contaminated
WASH & GLOW – Seeing is believing
The Checkpoint UV Disclosure Lamp is a high quality portable hygiene training resource equally at home for hand wash training and surface hygiene / cross-contamination training. 
It's lightweight, compact folding design makes it ideal when moving between Infection Control training sessions.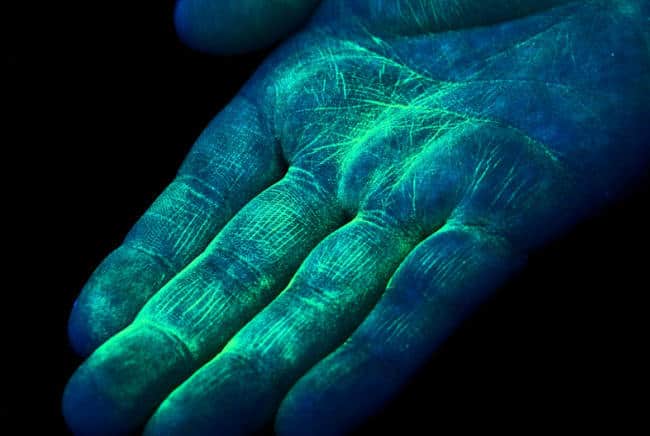 Additional UV GERM Training Lotion is available as required on this web site.
Click the VIDEOS tab on the top menu to see more product demo videos
See 'Delivery' for our dispatch days, shipping costs and options. Prices exclude VAT.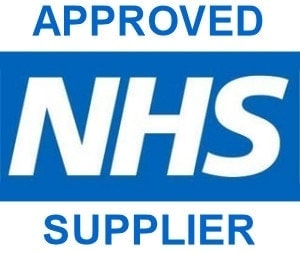 We accept NHS, Government & Education Purchase Orders. Email to: sales@glowtec.co.uk or Fax to: 0161 662 7253 or post to: GLOWTEC LTD, PO Box 919, Lancaster LA1 9LU