THE Complete Hygiene Training System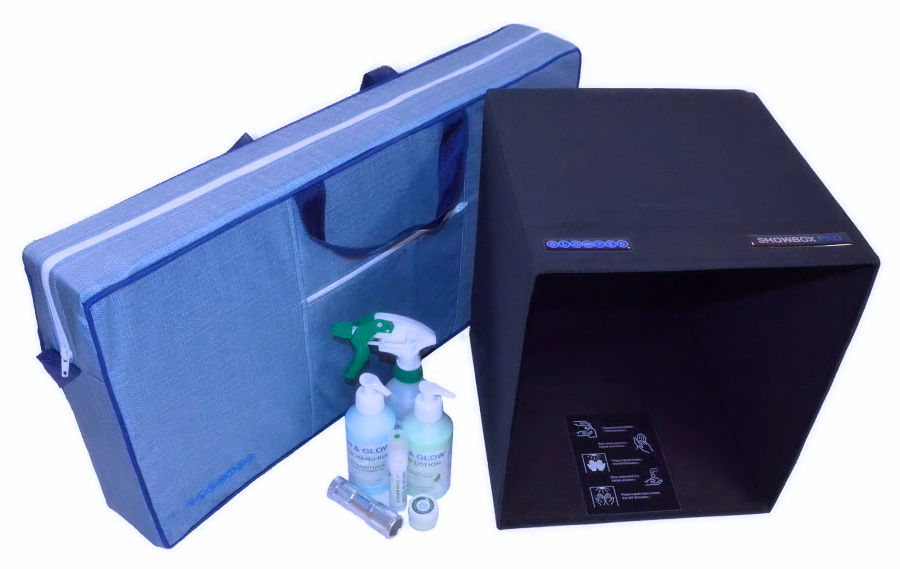 The WORLDS 1st TOTAL Hygiene Training System
SHOWBOX PRO TOTAL is a complete hygiene training system based around our next generation, professional grade UV light box system, and the first comprehensive hygiene training tool kit made for Infection Control Professionals.
This lightweight, table top 'dark theatre' allows you to see UV GERM particles remaining on hands after washing (or acquired through cross-contamination demonstrations) making it perfect for training in brightly lit rooms or areas which cannot be darkened easily.
When needed, it simply pops-up in seconds for an instant, ready-to-use hygiene training station, anywhere! When not in use it folds flat for easy storage or transportation.
or scroll down to see more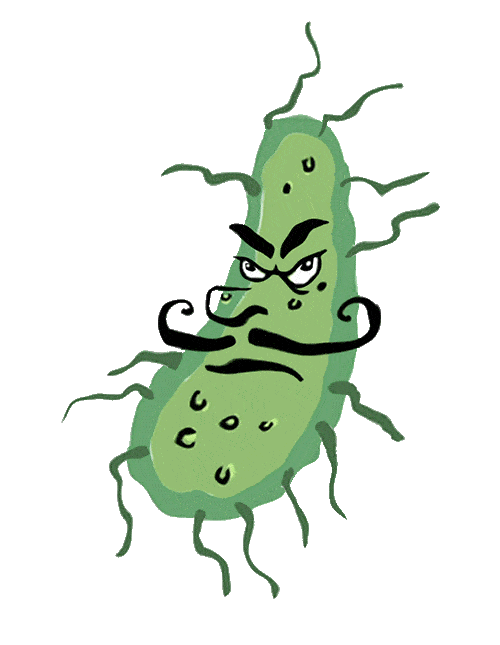 Your Hygiene Training Tool Kit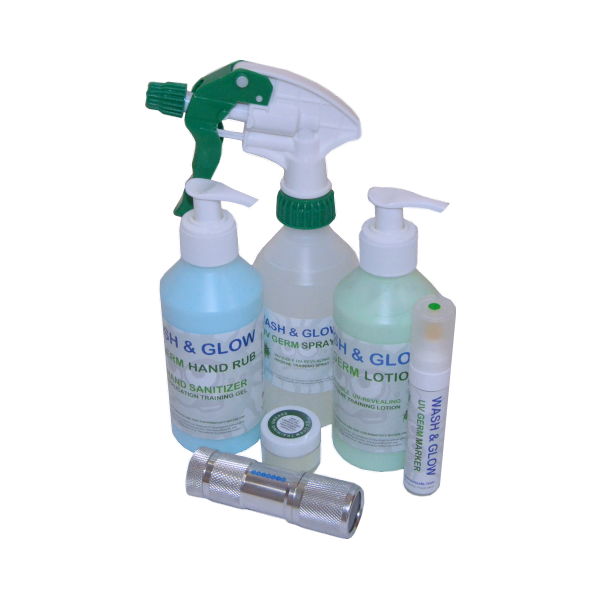 To teach or demonstrate hand or healthcare hygiene effectively you'll need to have the right UV GERM tools: Training Lotion for Hand Wash Training. Hand Rub Gel for Hand Sanitiser Training. Hygiene Spray for Multi-surface Healthcare Cleanliness Training and Hygiene Marker and Grease for Cleaning Training or Hygiene Check and Monitor. See 'The Circle of Hygiene' for how it all fits together.

In fact all these products have many possible uses and inter-combinations to suit almost any training situation, including Hazmat and HazChem training.

Its about the right UV light
UV GERM Training products are all but invisible in ordinary light. To see them (or reveal their presence) you'll need a UV Light source of a certain type and quality.
So at the heart of the SHOWBOX PRO we placed the New UV PRO Forensic Strip. A High quality, low profile UV LED array that produces UV-rich blacklight at an essential 365nm.
With no batteries or expensive UV bulbs to replace, its inexpensive to use and completely maintenance free, plus with very low energy consumption it's rightfully ECO friendly too.
SHOWBOX OFF
UV GERM Green Lotion
SHOWBOX OFF
Hand Rub Blue Gel
SHOWBOX PRO Kits includes either a 250ml or 500ml bottle of UV GERM Hygiene Training Lotion. Formulated using SMART UV Revealing Particles which are INVISIBLE under normal light conditions, yet will glow Green or Blue when exposed to a good quality UV Light source.
A pleasing and easy-to-use method of applying Microscopic UV GERM Simulation particles to hands prior to washing. This gentle, non-greasy, hypoallergenic lotion is safe for use on all skin types as well as most non-porous surfaces.
Simple Pop-up & Show Training Station
Hand and Healthcare Hygiene Training
Whilst hand hygiene is vitally important, if not more so in these troubled times, we must not forget about surface healthcare hygiene and the ever present problem of cross contamination. The SHOWBOX PRO Total Hygiene System provides the tools you'llneed to cover all 3 key elements of essential hygiene training plus the means to Check & Monitor Hygiene Standards going forward.
The UV PRO Forensic Torch can also provide Forensic CSI (Cleaning Standards Inspection) for Hospitals and Healthcare – Revealing traces of body fluids and other bio-contamination not visible to the naked eye.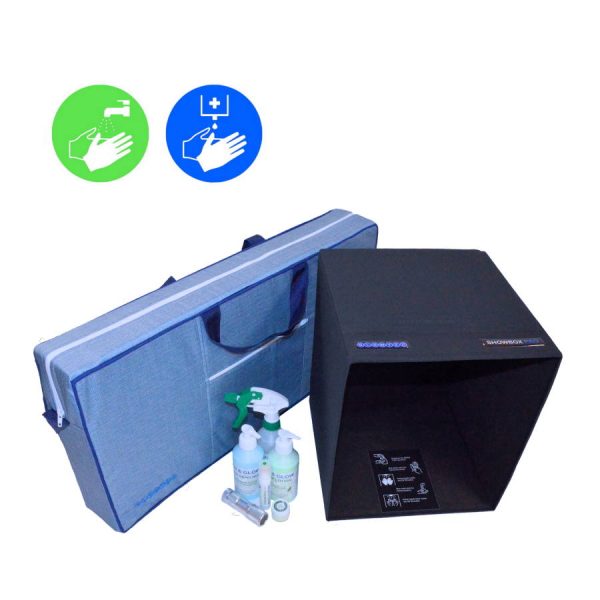 Click on the options above for details
The principle is simple; for hand rub to be fully effective, it must correctly applied so that it covers the entire surface area of both hands and wrists.
Any gaps (no matter how small) in this coverage, means, the alcohol hand rub may not be effective!
But how do you see what is and is properly covered? 
This is where UV GERM Hand Rub Training Gel comes in. A hypoallergenic, skin-safe gel, it contains a harmless, invisible UV ingredient, which when exposed to a UV light, will glow (fluoresce) bright blue. 
This serves to show exactly which parts of the hands and wrists have (and more importantly) have not been properly covered (sanitised).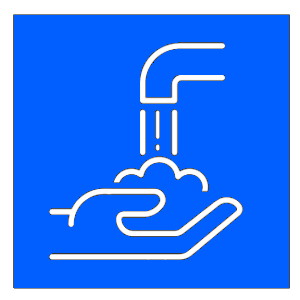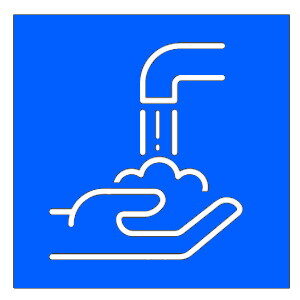 1 Wash and Dry hands First
Hand sanitizer is only fully effective on visibly clean (unsoiled) hands and skin.  Have the attendees wash and dry their hands properly in preparation.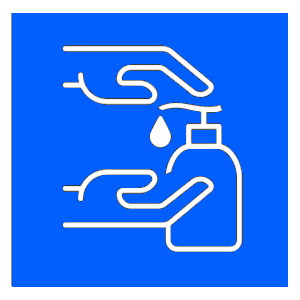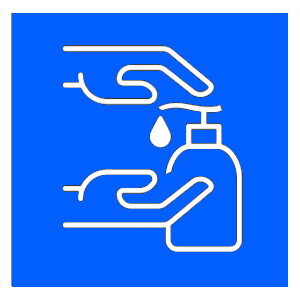 2 Dispense Hand Rub Training Gel
Dispense a small amount of Hand Rub Training gel into the hands. Roughly the same mount as would be dispensed by a Hand Sanitizer Dispenser.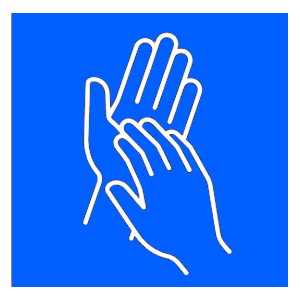 For the first attempt (and before any training), have the attendee rub the gel into their hands.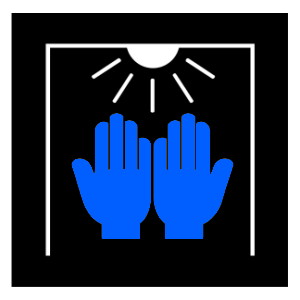 Now have them place their hands inside the Showbox (or other darkend area) and see the results. The vast majority of their hands will probably be covered. However, its the tiny dark areas on the hands and wrists that are the danger zones. This is where microbes and bacteria can hide, safe from the sanitizers reach. Remember, it only takes a speck to cross-contaminate!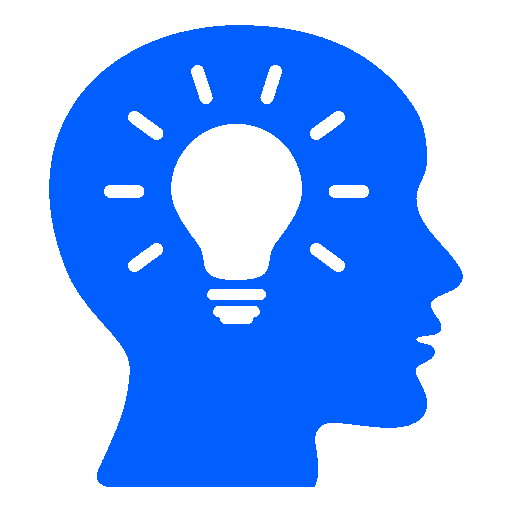 5. Now Teach them how to do it properly
Having seen with their own eyes, the evidence of apply hand rub incorrectly, you would now teach them the correct technique and repeat the above steps 1 through 4 until they get it right.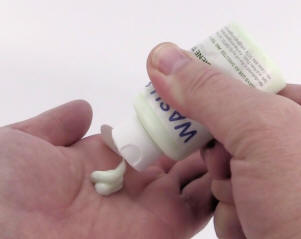 Dispense a small amount of UV GERM lotion onto the hands.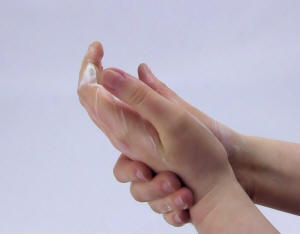 Rub in the training lotion into hands and wrists.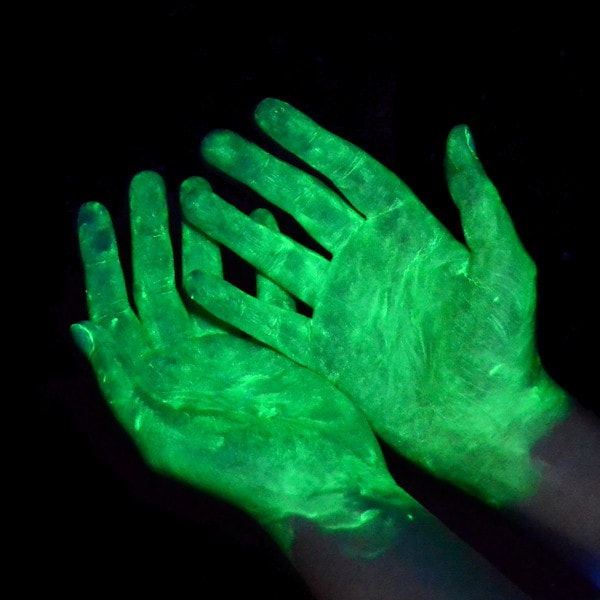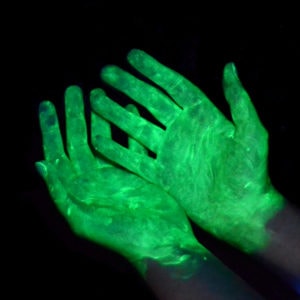 Place hands inside the Showbox Pro's  UV Forensic Light and see hands and wrists will glow bright green to show full coverage of the lotion.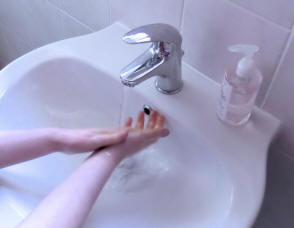 Now wash hands as you would do normally.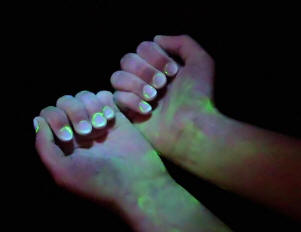 Under UV light the areas not properly cleaned will still glow green.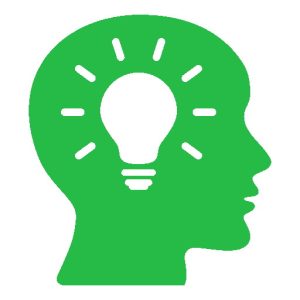 Now deliver the appropriate hand wash method training and wash hands again.
Properly this time!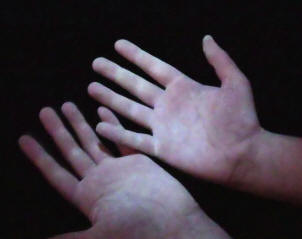 Under UV light your hands should now be free of any glowing UV GERM particles. Perfect.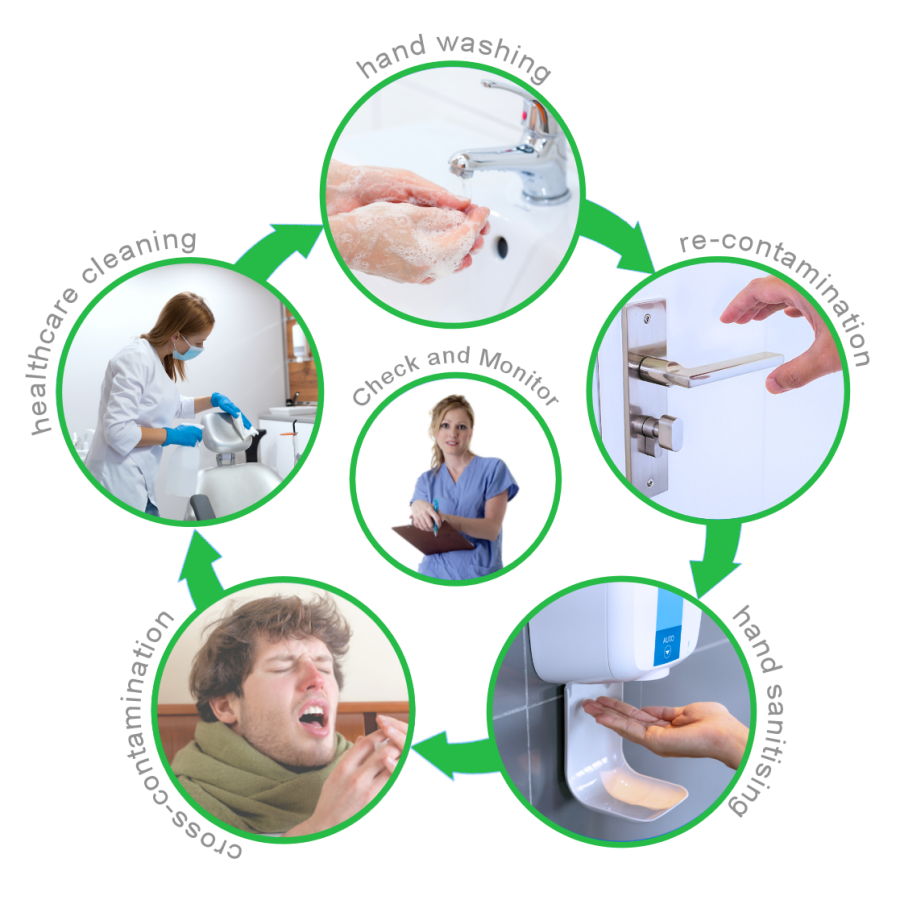 Hygiene Training & Monitoring are a key part of the Healthcare Circle of Hygiene.
See 'Delivery' for our dispatch days, shipping costs and options. Prices exclude VAT.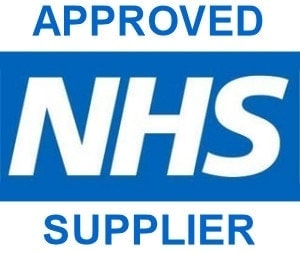 We accept NHS, Government & Education Purchase Orders. Email to: sales@glowtec.co.uk or post to: GLOWTEC LTD, PO Box 919, Lancaster, LA1 9LU